Dr Pavel Poc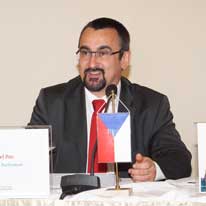 Pavel Poc is a member of the ENVI committee (Committee on Environment, Public Health and Food Safety) and the head of Czech delegation in the Socialists and Democrats political group in the European Parliament.
He graduated in general biology from the Faculty of Science at Charles University, Prague and specialised in the hormonal regulation of behaviour (in insects).
Afterwards he worked in the ethological laboratory of the Physiology Institute of the Academy of Sciences of the Czechoslovak Republic.
Moreover he also specialised in animals' subconscious perception. During the 1990s, as he served as head of the environmental department of the MariánskéLázně municipal authority, he entered his political life, first on the regional level. At that time he was also involved in drafting and implementing the Czech legislation on animal welfare.
From the very first moment as an MEP,Poc was confronted with many different animal welfare issues. In early 2014 he succeeded Dan Jorgensen as the President of the Animal Welfare Intergroup in the European Parliament.