Dr Kelly BéruBé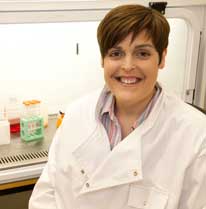 Dr Kelly BéruBé is the Director of the Lung & Particle Research Group at the School of Biosciences, Cardiff University, UK.
With a background in electron microscopy and lung toxicology, she has built an international reputation in the field of air pollution and human health and holds numerous appointments in the USA and UK on funding bodies, advisory councils, professional societies and journal editorial boards that focus on environmental health.
Her research focuses on the determination of intelligent biomarkers of exposure and harm in the respiratory system, with a particular interest in understanding how pollutants compromise lung biochemistry and alter gene and protein expression to drive disease mechanisms.
Dr BéruBé's research has been recognised with a number of awards, including the Institute for Science & Health (USA) 'Scientific Merit Award 2006' for toxicogenomics of inhaled xenobiotics and the honour of being the British Toxicology Society 'Australasia Visitor 2006' to conduct a coast-to-coast lecture tour on nano-toxicology.
Current work on 'human tissue equivalents of respiratory epithelia', as viable in vitro alternatives to animals for in vivo inhalation toxicology, was awarded the UK NC3Rs/MRC 'Replacement Prize' and the 'Science & Technology Innovation Prizes' in 2007 and 2010 and 2012.
In 2013, her Metabo-Lung™ and Micro-Lung™ models won the prestigious international Lush 'Science Prize' for 1Rs research.
Dr BéruBé's field of study is of natural interest to the general public, and as such, she is a prolific science writer and popular invited-speaker, and has worked extensively on communicating her research through public engagements of science for primary schools, laymen groups and professional learned societies.
She is currently a feature scientist on the BBC children's science television show called 'Operation Ouch!'
Below is an interview Kelly gave when she was a judge for the 2012 Prize.