Lush Prize conference 2014
Once again leading scientists and experts were able to exchange ideas and information. Our thanks to all who attended and made it such a success.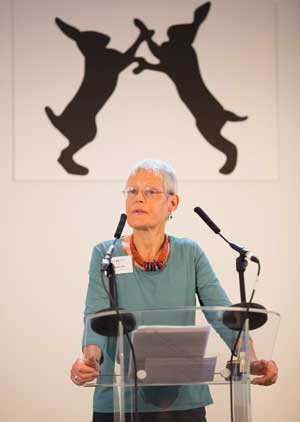 The theme of the Conference was:
"Is One R the new Three Rs? Does the consensus building around 21st Century Toxicology – a wholly replacement model ('1R') – mean that the 3Rs framework (refinement, reduction, replacement) is an idea that has had its day? Or does a significant pathway-based understanding remain so distant, that 3Rs will retain a relevance for many years to come?"

We have presentations, and where available videos of the sessions.
Session 1 – Is 1R the new 3R?

Dr. Thomas Hartung, Centre for Alternatives to Animal Testing, John Hopkins University.
Thomas kicked off the day with "Is 1R the new 3Rs?"

Prof. Lisbeth Knudsen, Professor of Toxicology; University of Copenhagen.
Lisbeth spoke about EU Chemical Legislation (REACH), European Consensus Platform for Alternatives (ECOPA), Danish 3R Centre, and her own research.

Prof. Horst Spielmann, Faculty of Biology, Chemistry, Pharmacy; Freie Universitat Berlin.
The Professor concluded the morning session by discussing "The way forward in implementing the 3Rs into research, regulatory practice and academic education."


Session 2 – Challenges in working towards replacement

2.1 – Young Researcher Prize Winners
Róber Bachinski
Thit Aarøe Mørck
Anne Krug
Jonathan Nicholas

2.2 – Working towards replacement for inhalation toxicology applications
Dr Kelly BéruBé & Dr Zoe Prytherch (Cardiff University)
Prof Roland Grafström, Karolinska Institutet, Sweden
Prof Ovanes Mekenyan, Laboratory of Mathematical Chemistry, Bulgaria

2.3 – Advocacy and Training
Dr Dennis Makau, Africa Network for Animal Welfare, Kenya
Stephen Manson, New Zealand Anti-Vivisection Society
Beki Hunt, Taiwan Society for the Prevention of Cruelty to Animals
Helen Marston, Humane Research Australia
Dr. Francois Busquet, Center for Alternatives to Animal Testing, Germany
Session 3 – A Global Perspective on Replacement

Professor Thales Trez, Institute of Science and Techonology (Alfenas Federal University), Brazil

Troy Seidle, Humane Society International, Canada
Troy spoke on "A global perspective on replacement. From principle to reality."

Borami Seo, Korea Animal Rights Advocates
Bormai shared what has been happening in Korea toward replacement of animal testing.