Melissa Mastro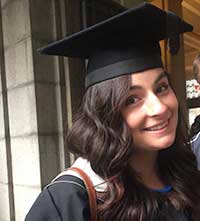 Melissa has been selected this year as the Lush Staff judge on the prize judging panel.
Melissa has a BS in Engineering Science – Biomedical Engineering with a specialisation in Mechanical Engineering, which she obtained from The College of New Jersey in May 2012.
In September 2014 she graduated with distinction from University College London (UCL) with her MSc in Biomaterials and Tissue Engineering.
While at UCL, she worked under Dr Suwan Jayasinghe and her dissertation focused upon bio-electrosprays. Particularly, the work focused upon monitoring two immortalised cell lines microencapsulated in Alginate, cross-linked in different divalent ionic solutions, with strong three-dimensional cell culture and cell therapy applications.
Melissa is currently working for Lush Cosmetics in New Jersey, USA, where she started as a seasonal holiday employee and is now a Senior Sales Ambassador.
While at work, she uses her knowledge of the effects of lead ingredients used in the products to enhance both customer and staff understanding. While she loved working on the retail side of Lush, Melissa is actively investigating positions in Research and Development or Product Development using her cell culture background. She is also exploring a Tissue Engineering, ideally cardiac tissue focused, based PhD within the US or Europe.
In addition to her education and work, Melissa is also an active member of the Society of Women Engineers, functioning as first a Collegiate Leadership Coach and now as a Leadership Coach.