Anna Ferguson Montague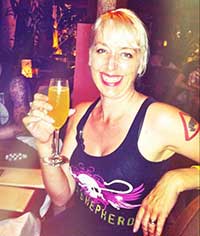 Anna has been selected this year as the Lush Customer judge on the prize judging panel.
Anna Ferguson Montague is a lifelong advocate for animals. For the past 7 years she has served as publicity officer and hands-on volunteer for Charlcombe Toad Rescue Group in Bath, which rescues thousands of toads, frogs and newts from a busy road every evening each Spring to enable safe passage to their breeding lake.
She volunteers and fundraises for Villa Kitty Cat Foundation in Bali, Indonesia, and also for Viva!, the Vegetarian and Vegan Campaigning Charity.
She sits on the board of Trustees for a local animal shelter, and is on the advisory panel for AOK Rucksack Appeal, a new and innovative homelessness charity in Bournemouth.
This year she took part in the Worldwide Vegan Bake Sale and discovered a new talent for cruelty-free baking!
In her day job Anna has spent many years working with socially excluded people and is passionate about empowerment and equality of access to services.
She lives in Bath, UK with her husband, four rescue cats and a rescue tortoise.