2018 Prize Shortlist
This year 56 projects and scientists from 17 countries made it through to the final judging process.
Every year we build a growing 'family' of Lush Prize winners who promote the Prize to colleagues and this has led to a fantastic number of nominations this year from China, South Korea and Brazil in particular. This year also saw our first entrants from Lebanon, Sri Lanka and Turkey,
The shortlisted nominees were:
Lobbying
L1: Dr Jeoung Ae Han, Member of National Assembly
South Korea
Passage of major chemical law (K-REACH) reform requiring prioritization of 1R replacement alternatives to animal testing
L2: Dr Siavash Ahmadi Noorbakhsh
Iran
Promotion of using replacement methods in biomedical research in Iran
L3: Partei Mensch Umwelt Tierschutz (Tierschutzpartei) [Animal Welfare Party]
Germany
Tierrechte in die Parlamente, Tierversuche verbieten [Animal Rights in Parliament – Banning Animal Testing]
L4: Rescue + Freedom Project
USA
Lobbying for Life
L5: White Coat Waste Project
USA
WCW Federal Lobbying 2017-2018
L6: People for the Ethical Treatment of Animals, Laboratory Investigations Department
USA
Replacing Animal Use in Global Military and Civilian Trauma Training
L7: Brazilian Network for Humane Education (RedEH)
Brazil
End of animal use for demonstration purposes on learning for 2019, being Brazil the first country on Latin America banning animal classes
---
Public Awareness
PA1: National Anti-Vivisection Society
USA
Public Awareness Initiatives
PA2: Doctors Against Animal Experiments
Germany
Promoting Science instead of Animal Experiments
PA3: Animal Justice Project
UK
Campus Without Cruelty
PA4: Dalian Vshine Animal Protection Association
China
Loss of experimental animals – the pain of experimental animals, you can never empathy!
PA5: Beagle Rescue Network
South Korea
Amendment of Laboratory Animal Law in S.Korea
PA6: Stichting Proefdiervrij
Netherlands
Monkey see, monkey do: spreading the word about animal-free research innovations
PA7: Humane Research Australia
Australia
Ending animal experiments
PA8: White Coat Waste Project
USA
WCW Public Awareness Campaign
---
Science
S1: Alcyomics Ltd
UK
IN VITRO "skin patch tests" for the detection of sensitization, allergy and relative potency assessment
S2: cellasys GmbH
Germany
Skin-on-a-Chip
S3: Prof Yeong Wai Yee – Nanyang Technological University
Singapore
Bioprinting of tissue models
S4: Dr Ellen Berg
USA
Phenotypic chemical biology for predicting safety and efficacy
S5: Dr Kyung-Min Lim
South Korea
In vitro irritation tests with Korean 3D tissue models
S6: Dr Bruno Neves
Portugal
Development of non-animal alternative approach for chemical skin sensitization risk assessment
S7: BASF Experimental Toxicology and Ecology
Germany
AOP-based testing strategy for the prediction of skin sensitization: the '2 out of 3' approach
S8: Johns Hopkins CAAT / UL
USA
Read-Across-based Structure Activity Relationships
S9: Dr Jiangwa Xing
China
In vitro micropatterned human pluripotent stem cell test for teratogen screening
S10: Dr Dan Huh, The BIOLines Research Group, University of Pennsylvania
USA
Microengineered bio-mimicry of human physiological systems
---
Training
T1: Laboratory of Education and Research in Pharmacology and Cellular Toxicology, LPCT Team
Brazil
Disseminating Alternative Methods in Brazil and South America: Education and Training for Animal Replacement in Science
T2: SYRCLE (Systematic Review Centre for Laboratory Experimentation – Department for Health Evidence Radboud university medical center)
Netherlands
Training in systematic reviews of preclinical studies
T3: FCS-free database team, 3Rs-Centre Utrecht Life Sciences
Netherlands
FCS-free Database
T4: Guangzhou Chn-Alt Center for Alternative Research & Evaluation
China
Training platform for industries and academic consensus for replacement animal in China
T5: MatTek In Vitro Life Science Laboratories
Slovakia
Hands-on training and Teaching on Alternative Methods in Toxicology
T6: Ms Kumiko Tatsumi
Japan
Training of primary cell culture using residual resected human tissue
---
Young Researcher – Asia
YR-Asia-1: Dr Guan-Yu Chen
Taiwan
Development of a new assessment model for health effects of particulate matter
YR-Asia-2:  Ms Jee-hyun Hwang
South Korea
Investigation of dermal toxicity using alternative methods to animal testing
YR-Asia-3: Ms Hyunah Moon
South Korea
Development of reconstituted human skin models for testing the safety and efficacy of cosmetic and pharmaceutical substances
YR-Asia-4:Ms Qianqian Wang
China
Application of in-vitro techniques to investigate the pharmacological and toxicological effects of arsenicals
YR-Asia-5:Dr Jiangwa Xing
China
Teratogenic mechanism study of tyrosine kinase inhibitors using the micropatterned human pluripotent stem cell test (µP-hPST) assay
YR-Asia-6:Mr Ye Dong Jin
South Korea
Discovery of Ezrin Expression as a Potential Biomarker for Chemically Induced Ocular Irritation Using Human Corneal Epithelium Cell Line and a Reconstructed Human Cornea-like Epithelium Model
YR-Asia-7:Ms Miri Lee
South Korea
Lipid caring
YR-Asia-8:Mr Kota Toshimoto
Japan
Prediction in silico of major clearance pathway of drugs in vivo
Young Researcher – Americas
YR-Americas-1: Ms Lorena Neves
Brazil
Using Polyvinylpyrrolidone (PVP) as an alternative to animal inputs in the Western blotting protocol
YR-Americas-2: Dr Michelle Sabrina Silva
Brazil
Use of human scalp as a tool for advances in hair science and understanding of disorders and pathologies associated with extrinsic and intrinsic factors – a replacement for experimental models of non-human animals
YR-Americas-3: Dr Natalia Sizochenko
USA
When a foe becomes a friend: Staphylococcal autolysins as next generation antibiotics
YR-Americas-4: Dr Vinicius Alves
USA
Development of an artificial intelligence-based web platform for early toxicity assessment of mixtures present in major classes of industrial chemicals
YR-Americas-5: Mr Sasan Jalili Firoozinezhad
USA
Modeling radiation injury and countermeasure drug responses in a human Intestine Chip co-cultured with complex human gut microbiome
YR-Americas-6: Dr Pilar de la Puente
USA
Patient-derived in vitro breast cancer model for personalized in vitro drug screening
Young Researcher – Rest of World
YR-RoW-1: Ms Aline Chary
Luxembourg
Implementation of 1R principle for an in vitro alveolar model
YR-RoW-2: Dr Alessandro Polini
Italy
Neuromuscular junction-on-a-chip models for the study of Amyotrophic Lateral Sclerosis (ALS) disease
YR- RoW-3: Dr Arutha Kulasinghe
Australia
Ex vivo expansion of patient derived circulating tumour cells
YR- RoW-4: Ms Parul Chandorkar
Austria
Establishment of an invitro 3D human lung model to study fungal infections
YR- RoW-5: Mr Thomas Kralj
Australia
In vitro identification and prediction of drug induced liver toxicity through use of metabolomic analysis
YR- RoW-6: Dr Daniel Urbisch
Germany
Replacement of animal testing: Evaluation of non-animal methods for assessing skin sensitization
YR-RoW-7: Mr Nikolas Gaio
Netherlands
Replacing animal tests with silicon chips
YR-RoW-8: Ms Alexandra Damerau
Germany
Mimicking arthritis in vitro – a multicomponent model
YR-RoW-9: Mr Sebastian Eggert
Australia
Facilitating animal free precision cancer medicine: development and evaluation of an automated manufacturing and screening platform for personalized 3D cancer models
YR-RoW-10: Dr Francesca Grisoni
Italy
"Artificially intelligent" integrated replacement of animal eye irritation tests
YR-RoW-11: Ms Isabel Rütschle
Germany
Investigating effects of substances on co-cultures of human three-dimensional bronchial models and liver models using a Multi-Organ-Chip approach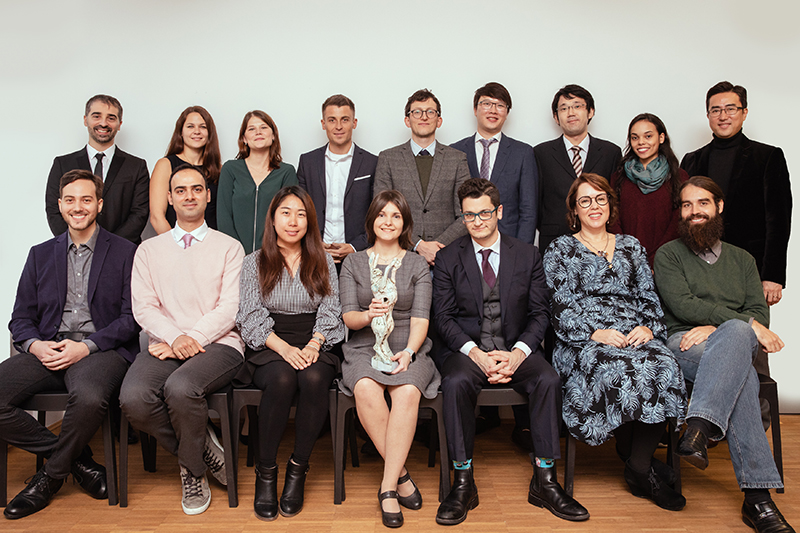 Photo: Our 2018 Award winners.
The Lush Prize only funds complete replacement of animal testing. Nominees are asked to declare any recent involvement in animal testing or use of animal products such as Foetal Calf Serum, animal cells etc. Some nominees may still use animals in some way but have expressed their desire to replace their use.
Winning projects are at the discretion of the judges and are required to ensure that funding is used only for the purpose of complete replacement of animals and animal products.