Jenny Martin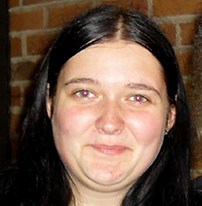 Jenny Martin is the Reserve judge and note taker – each year Lush selects one customer to act as an reserve independent member of the judging panel and an essential independent note taker.
Jenny has a BSc and MSc in Biomedical Science from the University of Sussex and Brighton University and currently works in the NHS, training to become a Biomedical Scientist, a job she loves so much.
Her aims in life are to help humans during her career in the NHS (in an animal friendly way!) and then to help the animals more in retirement by opening an animal sanctuary.
Having always had a passion for ethical science, she ensured she has never taken part in projects that she was not fully comfortable with and learning about the alternatives available so she can spread the message of cruelty free research.
Outside of work Jenny loves cooking, baking and eating (her work colleagues and friends have learnt just how good vegan cake is!).
She also enjoys comedy, nature and spending time with her human and furry family and friends.