Ethical Consumer
The Lush Prize is managed on a day-to-day basis by Ethical Consumer Research Association (ECRA), a not-for-profit co-operative based in the UK.
ECRA has been the hub of the ethical consumer movement for over 25 years, with a mission to make global businesses more sustainable through consumer pressure.
Consumer Information
ECRA helps consumers to check products and companies, avoid those they do not agree with, and to find alternatives.
It uses a ratings system covering 300 topics in 19 areas (including Animal Testing, Factory Farming, and Animal Rights) under 5 main categories.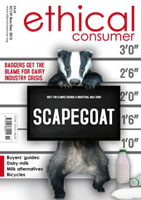 The information is provided as ethical product guides, with deeper background information for 1000's of companies and brands. It's the simplest, most transparent, in-depth way to research what you are buying.
The system is also provides personalised ratings, so if you care greatly about Animal Welfare but not so much about Worker's Rights, you can simply set your ratings to give more weight to the former and less weight to the latter.
ECRA also publishes six print issues a year of 'Ethical Consumer Magazine', the UK's leading alternative consumer magazine.
Campaigns
ECRA runs or is partner in several consumer campaigns, including the Fair Tax Mark, Boycott Amazon, and Stop the Badger Cull.
Services for Organisations
ECRA provides research and consultancy and policy development for campaign groups and ethically-minded organisations, such as Amnesty International, Christian Aid, Rainforest Association, the Soil Association and WWF.
They also provide tools for organisations and businesses to check their supply chains.