Kamel Mansouri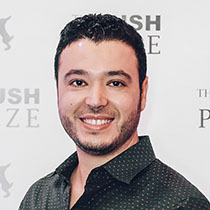 Dr Kamel Mansouri has been selected as a Young Researcher Judge for the Lush Prize 2022.
Kamel is a computational chemist who obtained his PhD in computational chemistry from the University of Milano Bicocca, Italy, as a Marie Curie fellow (eco-itn).
He is currently leading the computational chemistry efforts at the NTP Interagency Center for the Evaluation of Alternative Toxicological Methods (NICEATM) within the US National Institute of Environmental Health Sciences (NIEHS).
Dr Mansouri is working on several projects involving QSAR modelling, cheminformatics and computational toxicology. He is known for his international collaborations and leading consortiums of renowned scientists in the field of QSARs and computational toxicology.
In 2017, he won a Young Researcher Award at the Lush Prize for developing in-silico alternatives to animal testing for endocrine disruptors screening.