Gagnants 2018
Les gagnants représentent 17 projets dans 11 pays.
Par ailleurs, un projet a reçu les félicitations du jury.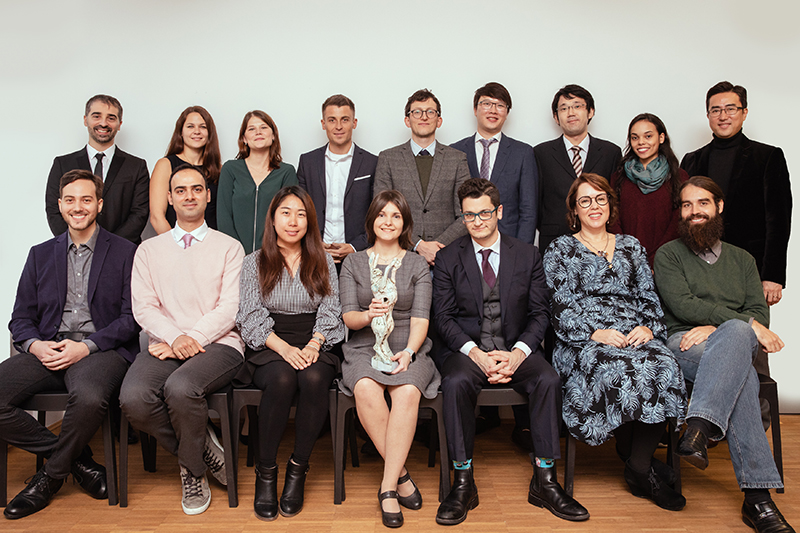 Veuillez nous excuser pour le désagrément occasionné. Cette page n'a pas été traduite en Français.
---
LOBBYING

Brazilian Network for Humane Education (RedEH)
Brazil
http://instituto1r.org/project/rede-nacional-de-educacao-humanitaria-redeh
£50,000
For ending animal use in classroom experiments.



Also commended:

Dr Jeoung Ae Han, Member of National Assembly
South Korea
For the passage of major chemical law (K-REACH) reform requiring prioritization of 1R replacement alternatives to animal testing.


---
PUBLIC AWARENESS

White Coat Waste Project
USA
http://www.whitecoatwaste.org
£50,000
For defunding and defeating taxpayer-funded animal testing.



---
SCIENCE

Dr Dan Huh, The BIOLines Research Group, University of Pennsylvania
USA
http://biolines.seas.upenn.edu
£50,000
For microengineered bio-mimicry of human physiological systems.



---
TRAINING

Laboratory of Education and Research in Pharmacology and Cellular Toxicology, LPCT Team
Brazil
https://farmatec.farmacia.ufg.br/
£50,000
For disseminating Alternative Methods in Brazil and South America: Education and Training for Animal Replacement in Science.



---
YOUNG RESEARCHERS
This category is divided into three regions – Americas, Asia and Rest of the World.
All winners receive £10,000 funding.
YOUNG RESEARCHER AMERICAS – 5 WINNERS
Dr Vinicius Alves
University of North Carolina at Chapel Hill
USA
Development of an artificial intelligence-based web platform for early toxicity assessment of mixtures present in major classes of industrial chemicals.


Mr Sasan Jalili Firoozinezhad
Wyss Institute-Harvard University
USA
Modeling radiation injury and countermeasure drug responses in a human Intestine Chip co-cultured with complex human gut microbiome.


Ms Lorena Neves
Catholic University of Petrópolis
Brazil
Using Polyvinylpyrrolidone (PVP) as an alternative to animal inputs in the Western blotting protocol.


Dr Pilar de la Puente
Sanford Research
USA
Patient-derived in vitro breast cancer model for personalized in vitro drug screening.


Dr Natalia Sizochenko
Dartmouth College
USA
When a foe becomes a friend: Staphylococcal autolysins as next generation antibiotics.

YOUNG RESEARCHER ASIA – 3 WINNERS
Dr Guan-Yu Chen
Institute of Biomedical Engineering, National Chiao Tung University
Taiwan
Development of a new assessment model for health effects of particulate matter.


Mr Kota Toshimoto
NRIKEN
Japan
Prediction in silico of major clearance pathway of drugs in vivo.


Dr Jiangwa Xing
Qinghai University
China
Teratogenic mechanism study of tyrosine kinase inhibitors using the micropatterned human pluripotent stem cell test (µP-hPST) assay.

YOUNG RESEARCHER REST OF WORLD – 5 WINNERS
Ms Aline Chary
Luxembourg Institute of Science and Technology (LIST)
Luxembourg
Implementation of 1R principle for an in vitro alveolar model.


Ms Alexandra Damerau
Charité-Universitätsmedizin Berlin
Germany
Mimicking arthritis in vitro – a multicomponent model.


Mr Nikolas Gaio
Technical University of Delft
Netherlands
Replacing animal tests with silicon chips.


Dr Alessandro Polini
Università del Salento / CNR Nanotec
Italy
Neuromuscular junction-on-a-chip models for the study of Amyotrophic Lateral Sclerosis (ALS) disease.


Dr Daniel Urbisch
BASF SE
Germany
Replacement of animal testing: Evaluation of non-animal methods for assessing skin sensitization.

---
Andrew Tyler Award

The Andrew Tyler Award for outstanding contribution to ending animal testing is this year awarded to Professor Horst Spielmann.
Horst is head of the European Society for Alternatives to Animal Testing and for the past 30 years his work has been instrumental in the development and acceptance of scientific alternatives to animal use globally.
The Andrew Tyler Award is a non-financial prize.